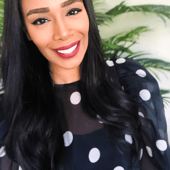 Summia Abdou alhafeez
Talent Acquisition Manager - Fashion – PEOPLE & CULTURE
Hello... I'm Summia!
Talent Acquisition Manager - Fashion, specialising in Retail roles, for the Chalhoub group,
I'm an Experienced manager, UAE and UK, with 20 years in the retail industry.

My Love for retail began as a 16 year old, searching for the opportunity of a 'Christmas Temp' role. Joining a high-street fashion brand, part-time, over the weekends.
Learning about the Industry, the Trends, the Guests… I very quickly fell in love with Retail and Fashion.

Throughout my career, I had the opportunity to learn from INSPIRING leaders… how to go from 'Good to Great'. Challenging myself to grow, seeking feedback and asking questions to support my progression.

My time in Frontline, with both High-street and Luxury fashion, has given me the ability to Lead & Develop people, Commercially drive a retail business and deliver the Exceptional Guest Experience.

The Chalhoub Group gave me the opportunity to pursue one of my passions…. identifying and recruiting Excellent Talent to meet the needs of Retail today.